Want to experience medieval charm along with a posh shopping experience in New Delhi? Head straight to Hauz Khas in South Delhi which combines the magnificence of medieval ruins with one of the most expensive shopping experiences in the city of Delhi.
Today, though the area is flocked by Delhi residents and tourists for shopping and dining, Hauz Khas has an impressive history to speak of. The second city of Medieval Delhi, Hauz Khas was built by Alauddin Khilji in the 13th Century; comprising of a large water tank, Hauz Khas was meant to be a reservoir for the supply of water to the village of Siri. The tank was re-excavated and renovated during the reign of Firoze Shah Tughlaq. As a part of the renovations, a number of medieval Mughal style buildings were constructed around the water tank. During the reign of Sikandar Lodhi further renovations and additions were made to the existing structures at Hauz Khas. It was he who renovated the tomb of Feroze Shah Tughlaq and built a madarasa or college here, along with the magnificent Moth-ki-Masjid. These buildings and ruins still dot the landscape of Hauz Khas, and one can experience the majestic Mughal architecture first hand while on a visit here.
A visit to Hauz Khas today takes you through narrow alleys lined with a number of boutiques and curio shops. However, while walking down these lanes one can find glimpses of Medieval Mughal India. The ethnic rural feel of this village is retained till date, as you find yourself shopping in quaint shops in little havelis and kothis. A number of high fashion boutiques are located in this posh locale; the who's who of Indian haute couture dare not skip this prominent address. From Ogaan to Ritu Kumar, you will find yourself staring at chic garments embellished with quintessential Indian hand embroidery, attractively displayed in the boutique windows of the fashion czars and czarinas.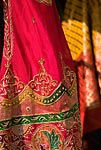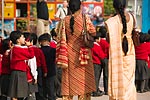 If you crave silver jewellery, Hauz Khas has a number of shops which have some most exquisite choice to satiate your silver hungry soul. A number of art galleries located in these alleys including the Art Bunker, can take care of the art lover's soul. For those of you who want to take home a little piece of India back home, Hauz Khas shops have it ready for you, all prettily packaged. From clothes to jewellery, from furniture to art, Hauz Khas has mastered the formula of selling Indianness to people, especially foreign tourists and a smattering of Delhi elites.
Apart from the shopping Hauz Khas also has some finger licking fare at the numerous restaurants which are located here. From the authentic Peshwari and Mughal food amidst greenery of the Deer Park at Park Baluchi Restaurant, to the very rustic village food experience at Baujee da Dhaba, it's all available here. The Bistro located here overlooks the lush Deer Park again, and has some great Indian food on offer.
Do pay a visit to Hauz Khas on your trip to Delhi. Besides the medieval architecture and ruins, you will also get a taste of an Indian village right in the center of India's capital. Indulge in some high fashion shopping, or just sit yourself down for an ethnic Indian meal. Whether you are a worshipper of Indian bo-ho chic, or the follower of avant garde art, Hauz Khas has something to offer everybody. The mixture of rustic Indian with a splash of history can be quite heady. Hauz Khas, the name means 'Royal Tank', and till date Modern Delhi's royalty – the rich, famous and the fashionable swear by Hauz Khas boutiques and the Hauz Khas experience. Don't miss a taste of indigenous India at Hauz Khas.